Theodora Exilus & Team Charcuterie Chix Won Audience Choice Award in Seton Hall's Pirates Pitch Competition
The Mount is proud to announce that Theodora Exilus '21 was awarded the Audience Choice Award and a $250 cash prize for her Charcuterie Chix pitch. She represented the team of four L.E.O program students that included Patty Ann Forsythe, Katerina Holevas, and Renee Schuldiner, in the sixth annual High School Pirates Pitch, a Shark Tank-style competition hosted by the Stillman School of Business' Center for Entrepreneurial Studies at Seton Hall University. Theo, Patty Ann, Katerina, and Renee developed the concept Charcuterie Chix, an innovative charcuterie gift delivery service.
At last Friday's event, eleven student entrepreneurs presented a start-up concept or business idea for a chance to win scholarships and prizes. The contest teaches high school students entrepreneurship basics and idea generation and recognizes students with outstanding entrepreneur skills. Each student pitched an idea in five minutes through a prerecorded or live presentation to more than 300 audience members attending the live streamed event. The finalists, chosen from a field of 180 high school sophomores, juniors, and seniors from 18 states and nations around the world, then answered questions from the panel of Seton Hall faculty and alumni judges.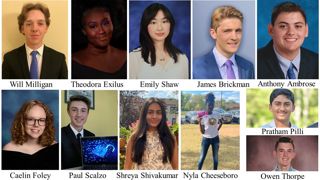 Joyce Strawser, Dean, Stillman School of Business shared, "It was truly inspiring to see the talent and creativity of these young entrepreneurs as they ably supported their business concepts during the presentation and Q&A segments. Even in a virtual format, this competition continues to celebrate young entrepreneurs and encourage them in their endeavors, demonstrating the adaptability and creative problem solving skills that make entrepreneurship such an important part of the business world today."
"The young entrepreneurs who participated as finalists in the Pirates Pitch Competition for High School Students were the "best of the best" of high school students. It was a true pleasure to work with them as together we created our contest anew in a virtual format," said Susan Scherreik, founding director of the Center for Entrepreneurial Studies in the Stillman School of Business. "I was completely impressed by their talent, passion, creativity and confidence. They demonstrated the can-do entrepreneurial spirit that we need now more than ever to solve the many challenges the world faces today."
First place was awarded to Shreya Shivakumar, an Edison, NJ senior attending John P. Stevens High School for Nourish America and Paul Scalzo, a Fairfield, NJ junior attending Saint John Vianney High School, placed second with Best Defense Solutions. The remaining finalists received a $4,000 scholarship to the University:
Anthony Ambrose, a senior at Saint Augustine Preparatory School from Moorestown, NJ - Business Startup Idea: TCCR – The College Cafeteria Review
James Brickman, a senior at Don Bosco Prep from Wyckoff, NJ - Business Startup Idea: Harvest Capital
Nyla Cheeseboro, a sophomore at East Orange STEM Academy High School from East Orange, NJ - Business Startup Idea: Slay Baby Slay
Theodora Exilus, a senior at Mount Saint Dominic Academy from Orange, NJ - Business Startup Idea: Charcuterie Chix (Audience Choice Award recipient)
Caelin Foley, a senior at Delcastle Tech High School from Wilmington, DE - Business Startup Idea: First2College
William J. Milligan, a senior at Cherry Hill High School West from Cherry Hill, NJ - Business Startup Idea: Card Capital
Pratham Pilli, a junior at Montville Township High School from Montville, NJ - Business Startup Idea: Shard
Emily Shaw, a junior at West Essex Senior High School from Fairfield, NJ - Business Startup Idea: UpCycle
Owen Thorpe, a senior at Horseheads High School in Horseheads, NY - Business Startup Idea: Soccermetrics
See the full article on Seton Hall University website.